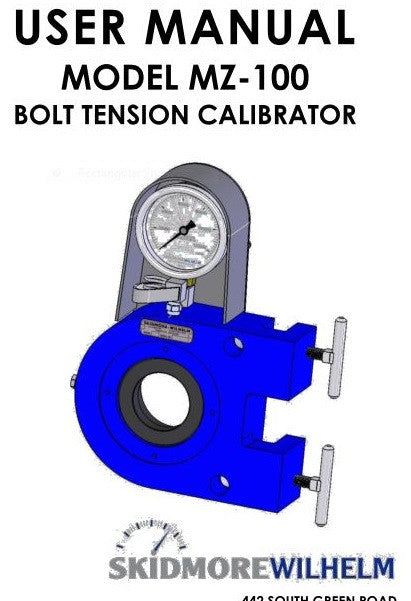 This is the user manual for our MZ-100 Bolt Tension Calibrator - Beam Mount.  This improved lightweight design builds on over 50 years of industry leading experience in bolt tension measurement and calibration while maintaining the accuracy, reliability, ease of use and technical support that you have come to expect from Skidmore-Wilhelm.
Typical Testing Applications
The calibrator can be used to measure fastener tension in a wide variety of applications including but not limited to:
Calibration of tightening tools, pre-installation verification, rotational capacity tests and other fastener tests.

The calibrator is compatible with all tightening tools including: manual and impact wrenches, pneumatic/hydraulic/electric wrenches and hydraulic tensioners, etc.

Fastener elements that can be tested include: hex bolts, threaded studs, tension control (TC) bolts, Direct Tension Indicating (DTI) washers, anchor bolts, lock nuts, etc.