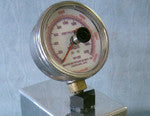 Model W Portable Tool Calibrator
For setting and checking all types of hand torque wrenches.
The Skidmore-Wilhelm torque wrench calibrator is a precision instrument for setting and checking all kinds of hand torque wrenches - beam, dial reading, micrometer, etc. Available in a wide range of torque capacities, this patented* device can be used by anyone to obtain accurate readings of applied torque. It is indispensable in the tool crib or on the assembly line, inspection, in the laboratory or in the field—wherever hand torque wrenches need to be accurately set or calibrated.

Accurate within ± 1% of full scale reading

Six models from 0-200 in-lbs to 0-2000 ft-lbs

Dial readings in English or Metric units

Rugged metal construction

Dependable hydraulic actuation assures long-term accuracy

Portable—mounts on any bench or may be clamped in a vise

Self-contained—needs no piping, wiring or other external connections

Reads both right and left hand